ZICAZIC – Article de Fred Delforge
Everything's gonna be alright
(Autoproduction – 2019)
Durée 73'00 – 16 Titres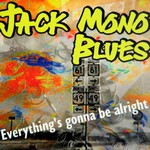 Si ce groupe lyonnais existe officiellement sous le nom de Jack Mono Blues depuis 1985, ses prémices remontent pour leur part au début des seventies, lorsque Régis Delongvert au chant et aux guitares et Yves Lafont à la basse, tous deux enfants du british blues des sixties, se produisaient déjà ensemble dans des registres tout naturellement teintés de rock. Le temps aurait pu faire son œuvre mais fort heureusement, contre vents et marées, les deux complices et leurs acolytes, Philippe Bruneau aux harmonicas et au chant et Guy Chanteperdrix à la batterie, ont su garder intacte leur foi en cette musique chaude et conviviale qu'est le blues de Chicago, un genre à part qui conjugue avec une ferveur de tous les instants les racines rurales et leurs variations plus urbaines. De fil en aiguille, Jack Mono Blues publiera une belle collection d'ouvrages qui entretiennent à leur manière l'héritage des grands noms du blues et c'est avec un nouvel opus live, témoignage de trois concerts enregistrés entre juin 2014 et janvier 2016 du côté de Crest, de Pélussin et de Lyon, que les quatre comparses reviennent vers leur public de prédilection, les amateurs des douze mesures au sens large du terme. En seize standards piochés du côté de chez Jimmy Reed, Little Walter, Muddy Waters, Big Bill Broonzy, Rice Miller, Junior Wells ou encore Willie Dixon, Jack Mono Blues va nous proposer un grand tour dans ce que le blues compte de plus précieux et de plus vaste, retraçant à sa manière la longue route empruntée par les hobos du Sud pour remonter vers la Windy City, source de tous les espoirs d'avenir, terre de prédilection de la fée électricité qui fera évoluer le genre et finalement terreau fertile d'une autre forme de misère pour un peuple opprimé qui aura l'intelligence d'extérioriser sa douleur pour nous offrir des « I Can't Be Satisfied », « Key To The Highway », « Born Under A Bad Sign » et autres « Hoodoo Man », des titres repris avec beaucoup d'ingéniosité et de savoir-faire par un groupe passé maitre dans cet art pas si évident de proposer un Chicago blues qui a de l'âme et du corps ! Une guitare qui danse, un harmonica qui lui donne la réplique, une rythmique de feu pour soutenir le tour … « Everything's Gonna Be Alright » !